The Lilacs
Self Catering Cottage
Vacation Rental
Ariane and Alain Cauderlier
79 avenue de Paris
27200 Vernon
France
Phone: +33 (0) 232 51 13 53

En Francais : Les Lilas, gîte à Vernon
près de Giverny

Auf Deutch : Gastezimmer neben
Giverny Frankreich
Self catering cottage, Vacation Rental, Guest House located in Vernon, 4 km from Claude Monet's house and gardens in Giverny France, 40 mn west from Paris. Ideal for a 3 to 6 family or party one day stop or for a longer stay. Hosts renowned for their warm hospitality, and their local history expertise.

Daily rate for up to 4: €100
Information and booking online

"Lilacs in the sun" double bedded room at The Lilacs Guesthouse in Vernon
4 km from Giverny
This ancient house is located in the small town of Vernon (see access map), 4 km from Giverny, the village of the painter Claude Monet. You will enjoy a relaxing stop 70 km only from Paris.
This old stone house used to be a farm in the middle of the fields when it was built in the 18th Century. Now the town of Vernon has grown around it. However it has country features like a barn, a closed well and a vaulted cellar.
Nature and Heritage
Leisure activities and discoveries are numerous in the area : walks in the wood or in the countryside, visits of castles, short boat trips on the Seine, drives in an ancient car, and last but not least, the must see wonderful garden of Monet and his museum-house.
The region is remarkably beautiful, painters will have plenty of subjects at hand to exercise their talents.
"The Lilacs, Grey Weather" twin bedded room at The Lilacs Vernon Guesthouse
The Lilacs cottage living room
On ground floor
large entrance with washing machine, toilets,

fully equipped kitchen (dishwasher, fridge, deep freezer, electric stove with oven, coffee machine, toaster...) with dining area,

living-room.
The house the Lilacs is offered on a formula that combines the advantages of self-catering and bed and breakfast.
You will take advantage of a complete house and its garden, like in a gite, but rented by the day. When you arrive, your hosts welcome you, beds are made, all what you need for a copious breakfast is waiting for you in the kitchen, and when you leave you don't have to care about cleaning.
The Lilacs house is about 90 m². It is ideal to accommodate a 2 to 6 person family or party.
The garden is about 500 m². The upper part is an orchard. The lower part enclosed by walls is ideal to have meals in the open air or relax in the sun.
The kitchen of The Lilacs cottage in Vernon near Giverny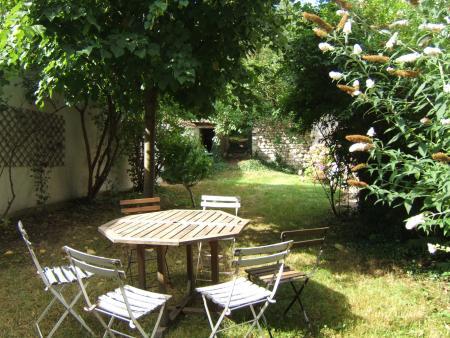 The Lilacs lower garden

Rates 2022 per night for the whole house :
Minimum stay: 3 nights
The first night, breakfasts provided :
180 euros up to 4 persons
From the second night on, without breakfast :
100 euros per night for up to 4 persons
20 euros per additional person (over 4 - maximum 6) and per night

Sheets, towels and house cleaning included.
Additional Touristic Tax 4%
English, German, Spanish spoken.
Addition Tourist Tax 4%
Wifi access
Baker's and car rental in the vicinity,
All shops and train station within walking distance (10 to 20 minutes).
At the Lilacs, you are at Ariane and Alain Cauderlier's place, Guide and webmasters of Giverny France
websites
. Almost unbeatable about all cultural resources of Giverny area, they will be too happy to help you make most of your stay.
Alain and Ariane are so keen on the cultural heritage of the area, that it became their jobs.
Ariane, a guide-interpreter, works mostly at Giverny; Alain is the webmaster of several websites on Claude Monet, Giverny and its surroundings; they will be happy to help you making the most of your stay.
You can read here Giverny Impression Ariane's blog in English about Monet's life and the gardens of Giverny.
Ariane's blog in French is Giverny News.
Your hosts are fluent in English and Spanish. Ariane also speaks German.
The Lilacs in full bloom in April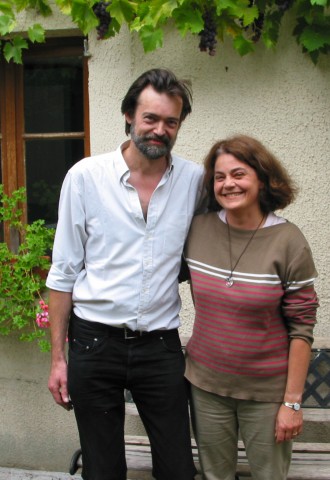 Ariane and Alain Cauderlier
Information and booking :
Information and booking online

Tel : +33 (0) 2 32 51 13 53
Availability and Booking Request Form